I was sent a package and gift card from Publix and General Mills to facilitate this review.
Cinco de Mayo is May 5th! One day I would love to go out and celebrate, but for now I'm happy to celebrate at home with my children.
The other night we celebrated Cinco Mayo and had a fun dinner with lots of Ola's being said. One thing I forgot was some Margaritas. I had a rough time with my camera that night and some pictures were taken with my phone and they came out blurry.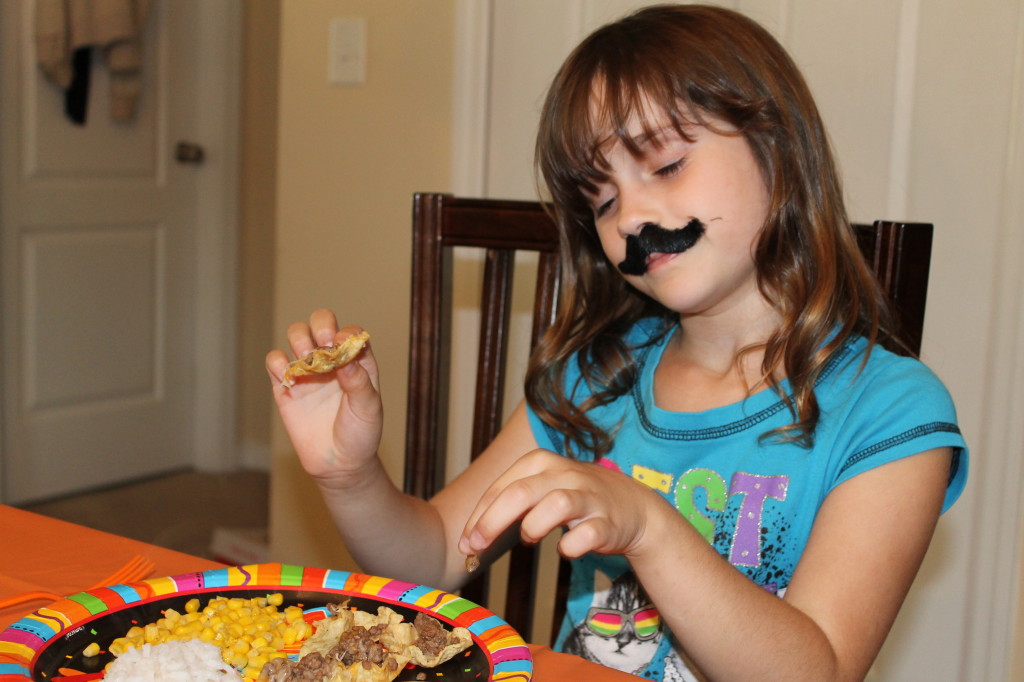 I made our usual Mexican dinner made up of nachos, hard and soft tacos, rice and corn. I added Old El Paso Frozen Enchiladas this time. My son loves the hard tacos with beef and cheese. My daughter loves the nachos (beef and cheese) although she has been known to eat a hard taco. My husband likes soft tacos with beef, cheese, corn and lettuce. I love all it with beans, sour cream, guacamole, salsa, etc.
Yes we wore mustaches while we ate. Okay only for a few pictures, they are itchy and hairy. Not sure how my husband keeps one full-time.
The frozen Enchiladas we good but a bit spicy. I liked it but no one else would try it. That's okay – more for me!

Moustache selfie!
If you live near Publix, they have a ton of Cinco de Mayo foods on sale! It's not too late to have your own celebration!
Until May 7th, Publix has boneless chicken breasts and Bell peppers on sale for some awesome Fajitas. Lean Beef is also on sale for some beef tacos and lettuce and tomatoes to top them off with. Hass Avocados and Tostitos Salsa is on sale. There is coupon in the sale paper for $1 off any 2 Old El Paso cooking sauces. All Old El Paso products are 25% off and the Old El Paso Meals for Two are Buy One Get One Free.
Lots of great savings and what great way to celebrate!
                                                        How do you celebrate Cinco de Mayo?