Would you love to receive full sized products for free? Who wouldn't?! I was contacted by a company called Daily Goodie Box that provides free full sized samples for FREE!! That's right, no costs!! I was happy to review a box for them to tell you all about it.
About Daily Goodie Box:

We are going to send you free Goodie Boxes that are not only 100% free, but we'll also cover the shipping costs too!
We will never ask you for a credit card or any type of payment. Our Goodie Boxes are absolutely 100% free to you.

What do we want in return?

Just your honest opinion on what you thought of each product you receive. Really, that's it!

What's the catch?

There isn't one. We take your review and show it to the brand. Simple!
As you can see, it is pretty simple! Sign up and see if you qualify to receive a box. Make sure to review the items that were included. Easy Peasy! Let me show and tell you what was included in my box!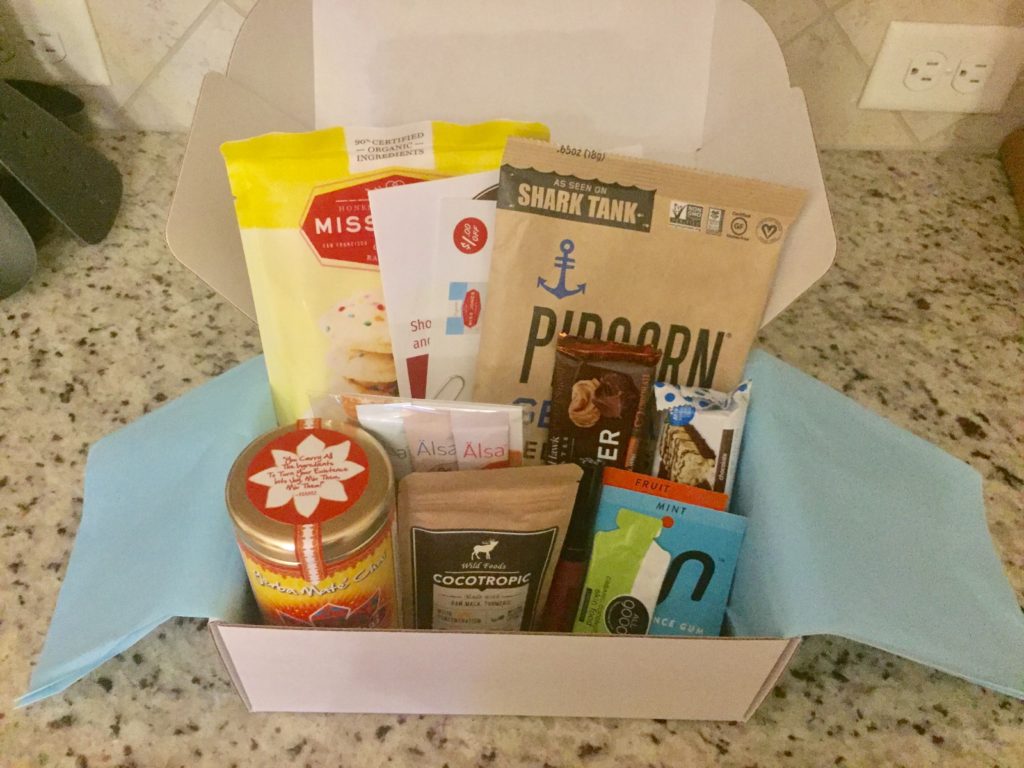 Get ready for the freshest, most flavorful truffle popcorn you'll ever have! We use all-natural white truffle to season our most popular flavor. Go ahead and add 2 to your cart, you'll thank us later! $20.00 for a 4-pack.
This Popcorn has been featured on Shark Tank! It is delicious and makes the perfect snack!
Creamy milk chocolate filled with smooth peanut butter! $5.95 per bar.
Gertrude Hawk is pretty much my all time favorite chocolate! This candy bar was so good and I loved the peanut butter taste!
Can you ever have too many lip glosses?  We think not, especially when they're made by Benecos! These luscious, skin-softening lip glosses are infused with organic ingredients and pure mineral pigments, and they feel just as amazing as they look. All six shades are gorgeous and perfect if you're looking for just a sheer wash of color vs. the more highly pigmented lip glosses made by Lavera. $11.99.
Lip Gloss that is organic?! Yes please! I love how this lip gloss looks on and love that it is all natural.
Valued for health and energizing properties in South America, our fresh Yerba Maté (not smoked) mingles perfectly with our antioxidant rich black tea and ginger spice blend – to create a revitalizing chai experience. $19.99 for a variety pack.
This tea is awesome! It is completely organic and biodegradable. You can have it hot or iced. Plus it tastes great!
Dig in, warm your palms together and rub All Good Skin Food all over for instant deep moisturizing organic skincare after a shower, during a massage, or just as a baby is out of the bath. $14.99 for full size.
Oh I love Coconut Oil! So many benefits with using it.  This one is GMO FREE – GLUTEN FREE – VEGAN – NON-NANO – BIODEGRADABLE!
Our melted dark chocolate paired with the creamy taste of marshmallow is just the right amount of sweet.  We chose to use a dark chocolate, because it gives the bars a more pronounced chocolate taste without being too overpowering. $14.99 for a box.
This bar is packed with protein and is gluten free. It tastes like a rice krispie treat!
Run Gum® is the fastest way to help energize and maximize your performance in sport and life. Our energy gum is packed with caffeine, taurine, and b-vitamins, similar to many energy drinks and energy shots, only you don't need to put anything in your stomach. Plus, as a gum, ingredients enters your system faster than drinks, shots or gels. $1.89 per pack.
I live on caffeine and chewing gum, so what a perfect combination while I exercise or even when I am at work!
The healthy energy drink mix, Älsa is smarter, steady energy with Cognizin® citicoline for mental clarity and PURENERGY® for a long-lasting boost.
Three refreshing vegan and gluten-free flavors:
Dragon Fruit, Pomegranate Blueberry, and Three Citrus

12 pack box is $19.50.
I love energy drinks! These are vegan and gluten free, but best of all is they taste great and keep me energized!