I have a 6-year-old son, and lately he has been going through a phase of needing is light on to go to sleep. He can't fall asleep unless the tv is on a timer or I leave the hall light on. The problem with this is I usually always forget to turn off the hall light when I fall asleep, and end up waking up in the middle of the night to do so. i was contacted by company LIFETIME with their really cool product called LightHeaded Beds.
I was SO excited to review one of their beds because I knew Anthony would love falling asleep to a cool image that lights up! Let me tell you all about this bed!
HOW IT WORKS

One Bed, Endless Possibilities.

Kids grow up fast and their interests are always changing. Their dreams and interests change from damsels and dragons to pop stars and sports idols.

With a LightHeaded Beds, kids will never outgrow their dreams. The soothing, warm glow of the backlit headboard, with its interchangeable HeadLightz graphic, makes bedtime a fun time. And as your children discover new interests, LightHeaded offers them countless options to match their endless imagination.

It's easy to get started… just choose from thousands of unique images from our online gallery or use your own photos and artwork, and your LightHeaded bed will grow and change along with your child's dreams.

Light It Up, Dim It Down.


Getting children ready for bed can be a major challenge. Some kids just want to stay up late and read. Others are afraid of the dark. LightHeaded Beds put you in charge of bedtime: a remote control dimmer and timer lets parents set the brightness and the duration of the light, to help kids feel even more comfortable in a bed they can really call their own.
So, what makes this bed so different from other bed models? This one is unique! This bed comes with a backlit headboard that you can use interchangeable graphics and images. Is your child afraid of the dark? Does you child want to sleep with a nightlight or closet light on? Good news, they can fall asleep in their very own bed that has a light! This bed comes with a remote control dinner with timer, and you can set how bright you want the light to be, and how long you want it on for. Just put your child to sleep, turn on the light and you are all set.The light is an LED light and plugs right into the wall outlet. No need to worry about batteries.
I was able to review a full size Canterbury Model with choice of Image. There are 3 finishes to choose from (black, white and brown chestnut) I chose the chestnut since it would match my sons furniture he has. You can also choose to add a trundle option for an additional cost. It didn't take long for me to get the bed once it was ordered, about 4 days. It came in 2 large boxes, and took my husband a few hours to assemble.  All you need to assemble is a screw driver. All of the other pieces are included.
One cool feature about this bed is that you can use it with a box spring or without, and no tools are needed to adjust height. I was happy to hear this since I just purchased my son a brand new mattress and box spring.
This bed comes with a graphic included, the one I received was a Dolphin image. I also ordered my son a custom image. It's a red spider webs background with his name on it. He really loves it!! There are so many possibilities and options of different graphics. You can even customize your own with your own photos! They are super easy to slide in and out of the headboard, and even the footboard has a storage compartment for your extra ones! You will never lose them. Since your bed will arrive will arrive with a graphic the company chooses, you can take your time to browse the site for the perfect Image to order afterwords. Your bed will also come with a $20 gift coupon towards any Image purchase! There are so many varieties of images, and you can even custom make your own with your own pictures!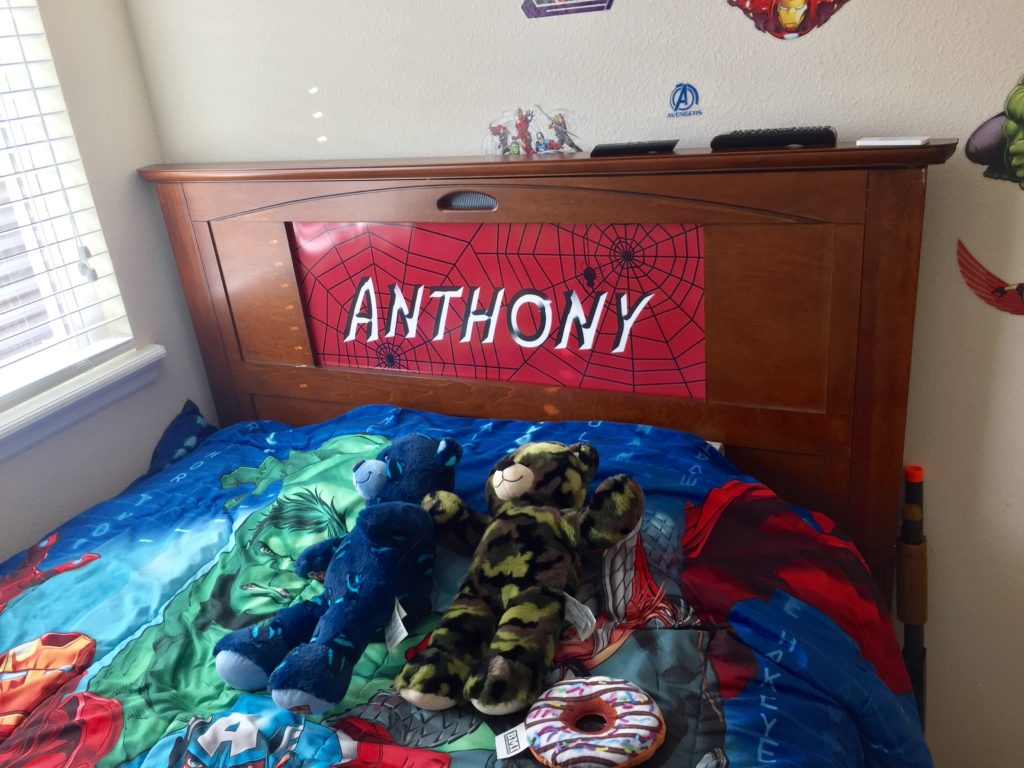 In conclusion, My son and I absolutely love LightHeaded Beds! This is such a great concept and will really help with children having fears of the dark. I love how you can purchase different images and even customize them. This is perfect since as your child gets older, he/she will end up liking different things and may not always like the original image you purchased.
Use coupon code MommyHasToWork for 25% off your order!
To order your own LightHeaded bed click here!
To follow on Facebook click here!
To follow on Instagram click here! 
To follow on Twitter click here!
****GIVEAWAY****
Would your child LOVE one of these cool beds? Enter to win a FREE twin size bed in your choice of finish, plus your choice of image! U.S. residents only, giveaway ends on 9/6/17.
a Rafflecopter giveaway

*I received the mentioned bed in exchange for this review. All opinions are my own.