We're all looking for ways to spend quality time with friends and family and a game of cards is a great way to do it.  But those paper boxes the cards come in fall apart quickly and then your cards are easily lost or damaged.  Then when it's time to play a game, those draw and discard piles get knocked over and it's tough to play if you don't have a level surface.  The Card Caddy solves both of these problems, appeals to a wide market and is attractively priced at $5.99 for our Single Decker and $6.99 for the Double Decker. The 5-pack is available for $26.99. It has a wide range of appeal to parents who want a portable alternative to their kids playing on their devices; players of traditional card games like Bridge, Canasta, Rummy, casino games and countless others;  and tabletop gamers and collectors of trading cards.
The ONLY playing card case which converts to a discard tray so you can play a game of cards anywhere, anytime. The Single Decker holds a standard 54 card deck or up to 40 sleeved collectible cards. Available in 6 colors, or order 2 cases to mix and match your case for your own personal style. Now available in Camo swirl pattern, too (each swirl pattern is unique).
I think
Card Caddy
is a fabulous idea! I know when I buy my kids playing cards, or any type of card game, the boxes always fall apart. I love this idea and how it keeps the cards safe and you won't damage or lose them. Card Caddy is great for any type of playing card or trading cards. Card Caddy would also make a fabulous holiday gift or birthday gift!
[arve url="https://youtu.be/uvi88fqXWZg" /]
Here is information about the Inventor, Chris Nichols, and the Card Caddy: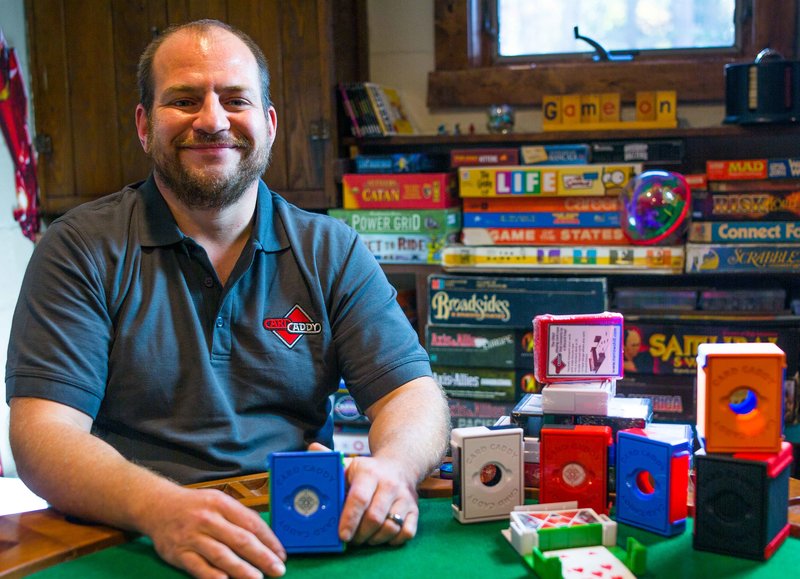 My name is Chris Nichols the inventor of the Card Caddy. When my step-son was around 5 years old, he was obsessed with Uno. I grew up playing card games of all sorts with my grandmother and wanted to foster that same love of cards with him. We carried around a couple of decks of cards, bound with rubber bands, stuffed back into the box, or just scattered in the bottom of a my wife's purse.  When it came time to play – often somewhere without a level, solid surface for the draw and discard piles – the stacks of cards fell over, blew away or slid down into the crevice of the car seat.

For Christmas that year, I made the original version of the Card Caddy in my workshop out of scrap wood.  It was bulky and clunky, but it was a big hit and solved my frustrations.  After a couple of iterations, I've put together an improved version and would like to the share the idea with card lovers everywhere. 

Whether you're a harried parent who wants a mobile entertainment option other than "a device", a hardcore Trading Card Gamer who has a lot invested in your deck, or just someone who likes to have a deck of cards handy for a game-on-the-go, the Card Caddy is for you.
**GIVEAWAY**
We are excited to partner with Card Caddy to give you the opportunity to win a 5-pack! Enter using the Rafflecopter below. U.S. residents only. Giveaway ends on 7/10.