A new school year is here. Time for waking up early, rushing around in the mornings, homework…etc. These items are sure to get your kids excited to get back in the school year groove. They will be excited to show all of their friends on the first day!
Jurassic World Trading Cards
Jurassic World is a popular movie right now that I'm sure your kids have seen or been asking to see. They will love collecting these awesome trading cards with their friends!
Collect all your favorite Dino characters and scenes from the new movie with these Jurassic World Trading Cards! Collection includes movie scene cards with scene descriptions on the back, glow-in-the-dark cards, heat 'n reveal cards, 3D action cards and authentic costume cards. Collect the entire set!

MSRP: $1.99
JoJo Siwa Mini Bows Series 3
      What little girl doesn't love JoJo bows? Check out series 3 of the Mini bows! Your little girl will love showing up to the first day of school in these stylish bows!
Calling all Siwanatorz: Jojo Mini Bows are back with all new bows for series 3! You will 100% love them!!

MSRP: $4.99
L.O.L Surprise! Fashion Tags
   My daughter LOVES anything L.O.L. related. She collects the dolls and was super excited to find out about these new Fashion Tags! They are blind bags and you don't know which one you'll get until you open it! She loves wearing them to school.
Summer is Selfie season! Now you'll be ready for your close up with these L.O.L Surprise! Fashion Tags! The collection includes 20 base tags, 4 glitter tags and 12 puffy stickers. Collect them all before you Glitterally can't!

MSRP: $3.99
Squish'Ums Skulls Series 1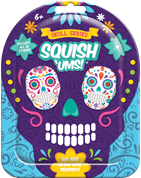 "Squishy" type toys are the hottest right now to kids!  All kids love collecting and squishing these adorable toys. My kids LOVE these blind bag Skulls. All different colors and patterns. 16 fun ones to collect!
We know that you can't get enough Squish'Ums! Bulls i Toy has you covered! An all new series of brightly colored Squish'Ums Skulls have been added to the slow-rise foam lineup. These intricately painted, vibrant skulls make it hard to resist collecting all 16! FEEL THE SQUISH!

MSRP: $4.99
Radz Trolls
Who doesn't love Trolls? Check out these cute Trolls candy dispensers by Radz! I love how you can switch out their hair and hats, and enjoy the yummy candy! Hook it right to their backpack for a sweet treat.
Bring the Trolls to you with these funky Radz dispensers! Their hair and hats are interchangeable so you can mix up and customize your favorite characters from the hit movie!
MSRP: $3.99- $4.99
Retail Locations: Target, Hobby Lobby, Walmart, Five Below, Burlington, Shopper's World, Jungle Jim's
Jurassic World Radz
Check out these Jurassic World candy dispensers by Radz!  Your kids will love having candy right out of the dinosaur's mouth. Collect them all and clip them to the backpacks!

Jurassic World Radz are just as yummy as they are ferocious! Add these to your pack, and pop out Jurassic World candies right from the dino's mouth!

MSRP: $3.99- $4.99

Retail Locations: Target, Hobby Lobby, Walmart, Five Below, Burlington, AAFES, DeCA/Commissary, Shopper's World, Jungle Jim's
Animal Jam Plusheez
These are so cute and will look great on your child's backpack! Adorable variety of animal faces, with yummy candy and a mini poster inside!

Make some noise when you go back to school with some Animal Jam Plusheez! With so many adorable animals to choose from, you'll want to collect them all!

MSRP: $4.99- $5.99

Retail Locations: Target, Shopper's World, Target, Jungle Jim's
Check out these websites for more information and where to purchase!  http://www.bullsitoy.com  and https://www.facebook.com/Radzworld/