Source: Wikimedia
I absolutely adore noodles. There are so many different ways to apply them in your cooking that they could be one of the most versatile foods in the world! I was first introduced to noodles as an easy, microwave job when I was young. Since then though, as I've learned more about cooking, I've tried and learned all kinds of great recipes. As I'm sure you know, you have to go to the far east to find real noodle-cooking geniuses, so that's where we're looking today. Here's a list of 9 of my all-time favourite noodle dishes. Try a few, and you'll see exactly why I love them!
I thought I'd start you off with the simplest dish – Yaki Udon. This dish takes very little time and effort to prepare, but tastes fantastic once it's all done. These are plain noodles stir-fried in a mixture of soy sauce and butter. Chopped scallions, shredded nori and bonito flakes are added in to create an aromatic and distinctly eastern flavour. When everything's been diced and mixed in properly, the dish can look dauntingly appetising. However, the cooking from start to finish should only take about twenty minutes. Once you're more experienced with this, you should be able to shave that down to about ten! In Tokyo, Yaki Udon is a commonplace bar food, so try it with a nice cold beer for the authentic experience. If you're one of those nuts who drinks sake straight, then you can try that as well.
Next up, we have a traditional dish from Malaysia: chicken laksa. Over the years, this has become a favourite in many areas of east Asia, especially as a casual, fast-food style bite. Don't let the fact that it's big in food courts throw you off though. This dish is a lot healthier than the burgers you're able to pick up here! This is made with a thicker type of rice noodle, mixed with a strong, creamy broth. A little spicier than a lot of other noodle dishes, chicken laksa owes its unique flavour to the range of different spices and herbs you mix into the broth. Cinnamon, black peppercorns and cumin seeds are a few of the things you'll be throwing in. You can find a great recipe for this dish on My Recipes. When you see the ingredients list, you might be a little sceptical. Don't put it down before you try it though! The range of flavours complement each other in such a potent and tasty way that you'll have trouble keeping away!
Now another simple dish. Somen noodles are a staple of countless Asian dishes, for two main reasons. First and foremost, they're delicious. Secondly, they're very versatile, and play well with all kinds of other foods. After a little boiling, and adding some soy sauce, sesame oil and scallions, you've got a meal ready to be eaten. This base dish is pretty tasty by itself. Seen as you're reading this though, I assume you want to be a little more adventurous with your cooking though! As I mentioned, somen noodles work well within a variety of other dishes. With some shallots, garlic, fresh ginger, and sugar snap peas, you can whip up a brilliant stir fry faster than you'd believe! Watch this entertaining video on Hampton Creek which has a quick run-through of this recipe. As you try more and more recipes, I'm sure you'll come up with your own great creations with somen noodles as the centerpiece.
Next we have one of the best soups from any cuisine on earth; beef pho. The centre of this lovely dish is prime beef shin and oxtail. This is enriched and complemented using cinnamon, anise pods, and ginger. A lot of these auxiliary ingredients need to be charred, which can take some delicacy and practice. However, even if you over or under-do these, it won't completely ruin the taste of the pho. From there though, it's a simple matter of boiling and stirring. When you're done simmering the soup, make sure you skim the layer of fat off the top. If there's one thing that will turn the dish on its head, then it's leaving this gunk in! Serve it by boiling some noodles of your choice, and pouring the broth over it, distributing the beef evenly. Lay out some steak slices, herbs, lime and soy sauce on the table. That way, your guests can add or weaken certain flavours as they wish.
Source: Wikimedia
Miso Ramen is another wonderful noodle dish, and a sure-fire way to get an authentic taste of Japan. If you weren't aware, ramen is a catch-all for a kind of noodle soup, which is huge in Japan. Every area of Japan has its own type of ramen, and I'm sure you'll have fun discovering the various different kinds. Miso ramen is a product of the northern Hokkaido region. This dish is not only tasty, but highly nutritious as far as noodle-based meals go. Shredded cabbage, carrots, and boiled eggs mean that you'll be getting your fill of protein and vitamins. Aside from that, you'll need to add scallions and chicken stock to give it the deep, meaty flavour it's known for. Pinches of miso paste, sake and mirin give it the finishing touches. If you find it's too weak or too strong when you first try this recipe, just play around with the amounts of veggies and aromatics.
Next, we have Japchae. This is another stir-fry which is packed full of great veggies and aromatic flavours. If you're only just starting to make some progress with noodle dishes, then you may want to stay away from this particular recipe. It involves a lot of different ingredients. Some of them, like shiitake mushrooms are very strong. If you screw up the weights and measures, then you might end up with a dish that's a little too flavourful. Probably the most important point is getting the balance of sesame seeds, soy sauce and sugar just right. If you're feeling ambitious though, japchae can be a wonderful dish to prepare and eat. This dish uses a particular kind of clear, chewy noodles which are very popular in Korea. If you want to add even more flavour to the japchae, then dash it with sri racha sauce. It can be eaten hot or cold too, so don't worry about cooking too much!
Source: Flickr
This post wouldn't be complete without a chow mein dish. In the spirit of healthy eating though, I'll list vegetable chow mein rather than any meat dishes. Although this is probably one of the healthier kinds of chow mein, I look forward to it more than any kind of fast food. Cheap and easy to cook, and absolutely delicious when you're done, once you've made veggie chow mein once you won't be able to help yourself! The mix of veggies includes onion, baby spinach, carrot and scallions. Shiitake mushrooms add a bold, underlying taste to the whole meal. Most recipes will recommend you add brown sugar. However, the light and dark soy sauce is complementary enough in my opinion. You can always swap out the sugar for a sweetener if you're dead set on staying healthy.
Here's a noodle dish which is a little different from the others; omusoba. Like yaki udon, this is another prevalent bar food across Japan. Unlike many other noodle dishes, this is yakisoba noodles wrapped in an omelette and seasoned with a sweet, tangy sauce. This sauce comes under a range of brand names in Japan, but Worcestershire sauce does just fine. You'll need some ground nori, chow mein noodles, and kewpie mayonnaise. 8 eggs, combined with some of the veggies you'll be using (onions, carrots, cabbage) serves to make the omelette you wrap the noodles in. If you're in a rush to get it served, then cooking omubasa takes a bit of multi-tasking. However, you won't need to do anything particularly difficult, or worry about messing up measures.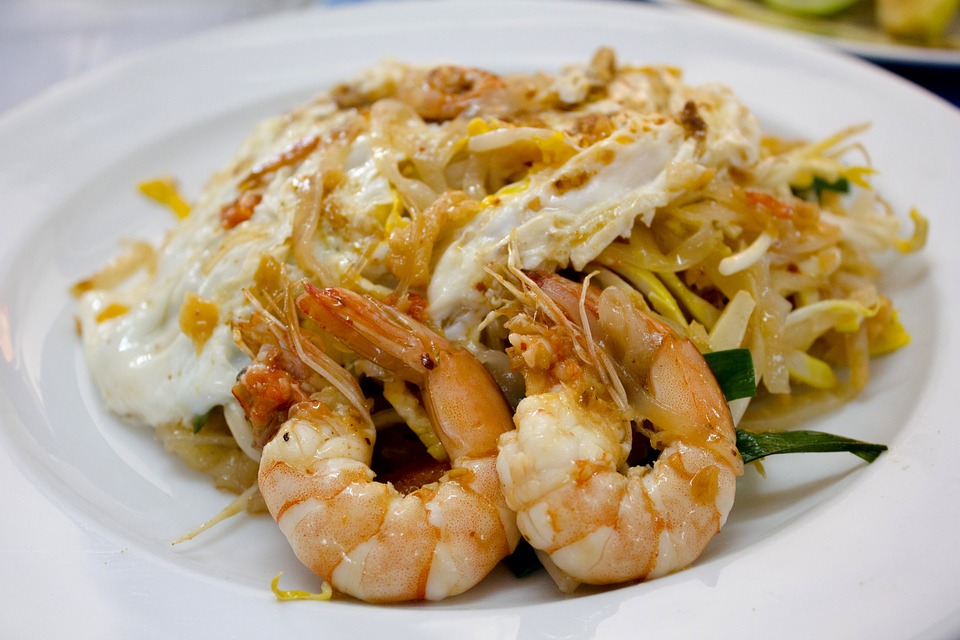 Source: Pixabay
I'll round this off with the king of noodle dishes. I've been neglecting Thailand in this list a little, so here's the only Thai dish you really need to learn: Pad Thai. This is made of thin rice noodles served with eggs, scallions, shrimp and some chillies. A rich fish sauce I brings it all to life, complemented by peanuts, cilantro and tamarind juice. If you look up come pictures of this dish, you'll probably see an eccentric, beautiful arrangement. All the meat usually sits in a round nest of noodles, and is decorated by slices of lime around the edges. However, don't let this put you off! Pad Thai tastes just as delicious whether it's all mixed up or not.
If you though noodles were a bland, one-use kind of food, then I hope this has changed your view. Try out any one of these dishes, and I'm sure it will spark an obsession! As you learn more about the ingredients and motifs of Asian cuisine, try to experiment. Noodles can be the centrepiece to any number of delicious creations!