September 13, 2018 By Marijean Leave a Comment
Pink Zebra is donating $1 from each Anniversary Jar purchased to food banks in areas affected by Hurricane Florence. If you haven't heard of Pink Zebra, they are a home fragrance and decor company. Sprinkles are little tiny "sprinkles" of wax that you can light using a plug in warmer, or a traditional wick. The scents are long lasting, and makes your house smell great. You can also mix them to make your own custom scent.
Check out consultant Laurie Leal's page to see all of the jars available in this special, and to check out all of the other items.
My name is MJ. I have two wonderful children and work part time as well as volunteer at my children's school.
August 26, 2018 By Anne Leave a Comment
You have found a great coworking space among the many that make up the Hong Kong's business environment. In usual fashion, your coworking space is fitted out with the latest amenities making work great. The space is one of Hong Kong's twenty-four-hour offices, which allows you to work at your convenience.
The coworking space offers a variety of events and activities to encourage interaction. The space is almost perfect, except you have not quite connected with those in your environment making the space only about work. However, you just need to allow some time to settle in as  one of the major benefits to this office solution is that the space does most of the work of networking for you.
Continue reading below for some useful tips on how you can get comfortable in a coworking space and maximise your experience.
Consider Co-Living While Coworking
One of the hottest trends in Hong Kong is the concept of co-living residences that also have cropped up in response to exceedingly high rents in the city. As professionals shack up with each other, they are beginning to find community. One solution to coworking doldrums is to consider co-living as a way to both reduce costs and work in close proximity to your coworking space.
Look for co-living spaces that are near some of the more popular coworking spaces. Please click on the following link at http://www.servcorp.com.hk/en/coworking/ to see some popular areas where coworking outfits are located around the province. By co-living, you might develop friendships that can extend into your coworking space.
Join The Coworking Community
The benefit of working in a coworking space is in part because of its social benefits. However, one of the best ways to get comfortable in a space is to participate in the community. Prospective renters can get involved in a number of ways.
Make an effort to attend events that are relevant to your business and the goals you want to accomplish. Plus, most coworking spaces in Hong Kong make a concerted effort to get members to participate by holding various social and professional events. coworking professionals can also get involved by volunteering to help out with any community events. You could also volunteer to host events that place a spotlight on the different activities your business engages in, and more specifically, show off your expertise.
But, Start Small
The best way to get comfortable in your workspace involves getting to know the people you work around on a daily basis. Take this opportunity to chat with others about your industry while working at the hot desk. Not that you want to monopolise their time, but these networking opportunities are the foundation of more work, namely the collaboration.
Collaborating with others in the community is probably the culmination of a lot of networking effort, but more than raising your business's profile, these activities also place you firmly within the coworking social scene. With access to a number of resources through all of this connecting, you can find it easy to get a number of tasks completed quickly. Ultimately, making connections in your immediate workspace can be the start of creating a comfortable workspace.
Stash Creature Comforts
When all else fails, surround yourself with the things that make work comfortable. Bring your favourite coffee cup to work, or create a screensaver that cheers you up. A comfortable seating cushion can make a work chair feel like the most comfortable living room piece. Finally, do not forget to bring music to tune out the often gregarious atmosphere.
Coworking Comfort
Making yourself at home involves getting to know those around you in your immediate environment. Whether this involves moving into a co-living space close to your coworking space, networking and relationship building, or bringing a little bit of home to the office, getting comfortable can happen in many ways. Ultimately, though your comfortable place in the community translates into your most productive place.
I'm a mother of 2 who likes to get involved in too much! Besides writing here I started a non-profit, I'm on the PTO board, very active in my community and volunteer in the school. I enjoy music, reading, cooking, traveling and spending time with my family. We just adopted our 3rd cat and love them all!
August 23, 2018 By Marijean Leave a Comment
A new school year is here. Time for waking up early, rushing around in the mornings, homework…etc. These items are sure to get your kids excited to get back in the school year groove. They will be excited to show all of their friends on the first day!
Jurassic World Trading Cards
Jurassic World is a popular movie right now that I'm sure your kids have seen or been asking to see. They will love collecting these awesome trading cards with their friends!
Collect all your favorite Dino characters and scenes from the new movie with these Jurassic World Trading Cards! Collection includes movie scene cards with scene descriptions on the back, glow-in-the-dark cards, heat 'n reveal cards, 3D action cards and authentic costume cards. Collect the entire set!

MSRP: $1.99
JoJo Siwa Mini Bows Series 3
      What little girl doesn't love JoJo bows? Check out series 3 of the Mini bows! Your little girl will love showing up to the first day of school in these stylish bows!
Calling all Siwanatorz: Jojo Mini Bows are back with all new bows for series 3! You will 100% love them!!

MSRP: $4.99
L.O.L Surprise! Fashion Tags
   My daughter LOVES anything L.O.L. related. She collects the dolls and was super excited to find out about these new Fashion Tags! They are blind bags and you don't know which one you'll get until you open it! She loves wearing them to school.
Summer is Selfie season! Now you'll be ready for your close up with these L.O.L Surprise! Fashion Tags! The collection includes 20 base tags, 4 glitter tags and 12 puffy stickers. Collect them all before you Glitterally can't!

MSRP: $3.99
Squish'Ums Skulls Series 1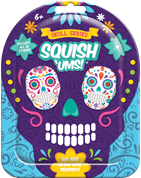 "Squishy" type toys are the hottest right now to kids!  All kids love collecting and squishing these adorable toys. My kids LOVE these blind bag Skulls. All different colors and patterns. 16 fun ones to collect!
We know that you can't get enough Squish'Ums! Bulls i Toy has you covered! An all new series of brightly colored Squish'Ums Skulls have been added to the slow-rise foam lineup. These intricately painted, vibrant skulls make it hard to resist collecting all 16! FEEL THE SQUISH!

MSRP: $4.99
Radz Trolls
Who doesn't love Trolls? Check out these cute Trolls candy dispensers by Radz! I love how you can switch out their hair and hats, and enjoy the yummy candy! Hook it right to their backpack for a sweet treat.
Bring the Trolls to you with these funky Radz dispensers! Their hair and hats are interchangeable so you can mix up and customize your favorite characters from the hit movie!
MSRP: $3.99- $4.99
Retail Locations: Target, Hobby Lobby, Walmart, Five Below, Burlington, Shopper's World, Jungle Jim's
Jurassic World Radz
Check out these Jurassic World candy dispensers by Radz!  Your kids will love having candy right out of the dinosaur's mouth. Collect them all and clip them to the backpacks!

Jurassic World Radz are just as yummy as they are ferocious! Add these to your pack, and pop out Jurassic World candies right from the dino's mouth!

MSRP: $3.99- $4.99

Retail Locations: Target, Hobby Lobby, Walmart, Five Below, Burlington, AAFES, DeCA/Commissary, Shopper's World, Jungle Jim's
Animal Jam Plusheez
These are so cute and will look great on your child's backpack! Adorable variety of animal faces, with yummy candy and a mini poster inside!

Make some noise when you go back to school with some Animal Jam Plusheez! With so many adorable animals to choose from, you'll want to collect them all!

MSRP: $4.99- $5.99

Retail Locations: Target, Shopper's World, Target, Jungle Jim's
Check out these websites for more information and where to purchase!  http://www.bullsitoy.com  and https://www.facebook.com/Radzworld/
My name is MJ. I have two wonderful children and work part time as well as volunteer at my children's school.
If you spent most of the summer vacationing with your kids, keeping them entertained during the weekend, and had little time to think about your own career and future, chances are that you might need a break from the routine and start thinking about your long term career choices. Whether you are stuck in a dead end job or would like to speed up … [Continue...]