Candy is always around during the holidays. Well, It's around year round at my house, but you know, more so during the holidays. There is so much you can do with it!! Of course, Nestle Candy is a favorite here!
Just plain eat it…Yumm!
Pack it into a stocking for a yummy Christmas Morning.
Box it up and give it as a gift…. I love these Monkey Crunch Bars!!
Or bake it!!
I made some delicious cookies, but I made it the easy way… I used already made sugar cookie dough and added the Crunch Jingles.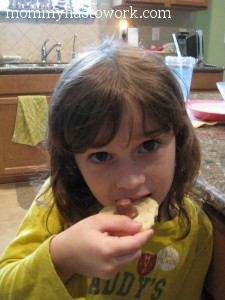 Don't these Peanut Butter Cookies with Butterfinger Bells sound delicious!! Similar but different!

Santa's Thumb Print Cookies
Prep time:
Cook time:
Total time:
Ingredients
1 package (13 oz.) NESTLÉ BUTTERFINGER Jingles, unwrapped
¾ cup creamy or chunky peanut butter
¾ cup packed light brown sugar
½ cup (1 stick) butter, softened
½ cup granulated sugar
1 large egg
2 teaspoons vanilla extract
1⅔ cups all-purpose flour
1 teaspoon baking soda
1 cup granulated sugar (optional)
Instructions
PREHEAT oven to 375° F.
BEAT peanut butter, brown sugar, butter and ½ cup granulated sugar in large mixer bowl until creamy. Beat in egg and vanilla extract. Gradually beat in flour and baking soda.
SHAPE dough into 1-inch balls. Roll in 1 cup granulated sugar; place on ungreased baking sheets.
BAKE for 7 to 9 minutes or until lightly browned. Immediately press 1 Nestlé Jingle into center of each cookie (cookie will crack around edges). Cool cookies on baking sheets for 2 minutes; remove to wire racks to cool completely.
I received Nestle Candy to review. Opinions are my own.