This is partnered guest post.
As a parent, you want to do right by your kids…whether they like it or not! The fact is, children just aren't playing outdoors like your generation used to. The Xbox culture is exercising many thumbs around the world, but not much else. Although virtual games have benefits for mental development, an active lifestyle is integral to health and happiness. Follow these tips to get your kid out and about:
Gardening 
As you know, tending the garden can be a real sweat-breaker. For children, helping with gardening can be a fantastic and engaging activity that teaches them about their natural environment and personal nutrition. Help them build their own flower and vegetable patch. Together, you can grow delicious greens for dinner and help promote wildlife in your area. Once your kid sees the fruits of their labour, they'll be more enthusiastic about spending time outside with their parents, tending the garden.
Exercise As A Family 
If you and your partner spend time after work playing badminton in the garden or kicking around a ball, your child will feel more encouraged by their parents' example and see the fun in exercising together. Spending your evenings watching X-Factor on the sofa sets up your kids to be dependent on electronics. If you spend your evenings away from the TV, your children will do the same.
Invite Friends Over 
The more people the merrier! Retire the TV and allow your kid to invite over friends. Encourage them to go nuts in the garden and have fun playing together. Keep toys on hand for active play, such as balls and hula hoops, or blast music out of the kitchen window for dancing. Serve up drinks and healthy snacks. You don't even have to let them create havoc in the house, if you set up an indoor out-of-bounds policy!
Many parents are worried about letting their kids go off playing on their own. The safe environment of your garden is the perfect opportunity to invite parents over for tea and nibbles. You'll make new friends, while your children all play together in the garden, and maybe you can convince other parents to return the favour, so your lawn doesn't become the town's playground!
Activities 
According to governmental guidelines, children should be getting at least an hour of exercise every day! Take up a new hobby together (and shed some pounds yourself), such as hiking, rollerskating, cycling, martial arts, jogging, football, basketball, swimming, rugby, tennis, tug-of-war, tree climbing, and gymnastics.
Your local gym may offer classes for children and their school will have sports teams your kids can enjoy. Take your children off at weekends for ice skating, hill walking, or any other active day out that you can think of. The multi use games areas, which are created by companies such as Playrite, in local playgrounds are great if you don't have a large garden at home, and offer an alternative environment for happy, little bodies to stay fit.
Getting Crafty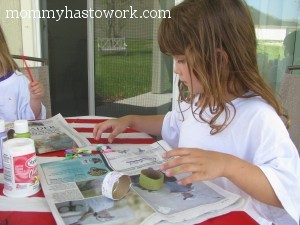 The outdoors offers some lovely artistic alternatives, whether that's collecting feathers or using leaves to make a pattern. Together, you can make summery, floral wreaths from all sorts of natural foliage. Alternatively, you could go flower-picking and press the blossoms in books, to be used in making pictures later.
Written on behalf of Playrite who are a playground surfacing company helping ensure kids are safe while having fun.