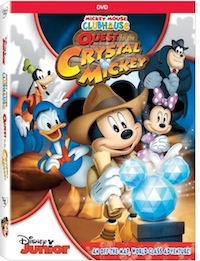 I love watching Mickey's Clubhouse with my daughter! We just received a new DVD, The Quest for the Crystal Mickey to review.
The Crystal Mickey that keeps the clubhouse going is missing!! Who took it? Why Plunderin' Pete of course. He thought it looked pretty and wanted it for his collection. Mickey and the gang go on an adventure to try and get it back. But can they get it back in time before the clubhouse disappears forever?
What a great show!
There are several more episodes on this DVD –
2 – Donald of the Desert
3 – Donald the Genie
4 – Goofy's Coconutty Monkey
5 – Goofy's Giant Adventure
Here are some prints you can download for some summer fun!
I received the above DVD to review. All opinions are my own.