I am working with Ringling Bros and will receive tickets as well.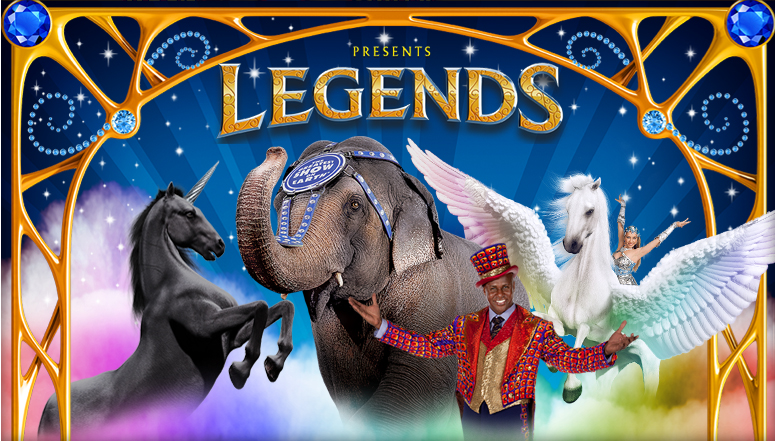 Ringling Bros. and Barnum & Bailey returns January 16-19 in Jacksonville,  FL with a brand new show Legends. The new show features a Woolly Mammoth. A Pegasus. And a Unicorn. How cool is that!
When we lived in South Florida I made it a tradition to see the circus every year. Not just any circus but the Ringling Bros. and Barnum & Bailey Circus! We missed last year because we were new to the area but not this year. It's coming next month for North Florida and I can't wait!
 These tickets would make great gifts!! I always bought them and stuck them in their stocking!!
JACKSONVILLE, FL – (November 15, 2013) – Ringling Bros. and Barnum & Bailey is proud to present LEGENDS! Drama, surprise and wonder build the excitement so BIG that it could only be The Greatest Show On Earth®. The brand new show runs January 16-19, 2014 at the Jacksonville Veterans Memorial Arena.

       Behold the living legends! Ringling Bros. and Barnum & Bailey brings the unbelievable to

       Children Of All Ages in an all-new show – – Ringling Bros. and Barnum & Bailey Presents  

LEGENDS. Experience unimaginable family fun, as amazing performers from around the globe perform awe-inspiring feats of daring, spectacles of strength and thrills of wonder to summon the mythical and the mysterious: a Unicorn, a Pegasus and a Woolly Mammoth! Join us for an unforgettable family night of legendary proportions at Ringling Bros. and Barnum & Bailey Presents LEGENDS!

 
Thursday, January 16, 2014 at 7:30 p.m.
Friday, January 17, 2014 at 7:30 p.m.
Saturday, January 18, 2014 at 11:30 a.m., 3:30 p.m. and 7:30 p.m.
Sunday, January 19, 2014 at 1 p.m. and 5 p.m.
Ticket prices start at $15.
Discount Offer:  $5.00 Off
Discount Code: JXBLG
Not valid on opening night or Saturday 3:30pm
Not valid on Front Row or Premium Seating
Additional fees may apply.
Ticketmaster service charges and facility fees not included. All seats are reserved. Tickets are available at
www.ringling.com
or
www.ticketmaster.com
, at any Ticketmaster outlet, by calling 800-745-3000, or at the Arena ticket office. For group ticket sales and information, call 866-248-8740.
Want something a little different and NEW?  There is a NEW and fun ticket option, the Ringmaster Zone ticket – it's $35 per ticket and gets you access into the VIP Ringmaster tent on the floor during the pre-show and backstage.  It is capped at 100 persons per show.
Mommy Has to Work will be giving away 2 sets of 5 tickets for the Jacksonville show! See details below to enter.