Today September 29th  is National Coffee Day! What better way to celebrate than with a FREE medium cup of Dunkin' Donuts Dark Roast Coffee!
I was invited to visit our local Dunkin Donuts last week to sample the new Fall coffees and donuts. It was a delicious treat!
The table was set and very festive. The first item to try was the Spicy Smoked Sausage Breakfast Sandwich. It does have a little kick to it but not enough to make me stop eating it! Then came some coffee samples. We tried the Pumpkin Latte, the Pumpkin Mocha and the Pumpkin Crème Brulee. My favorite was the Pumpkin Latte which has a nice light flavor. The Pumpkin Mocha wasn't bad. I could taste the most Pumpkin flavor in that one. The Brulee was a bit strong for me.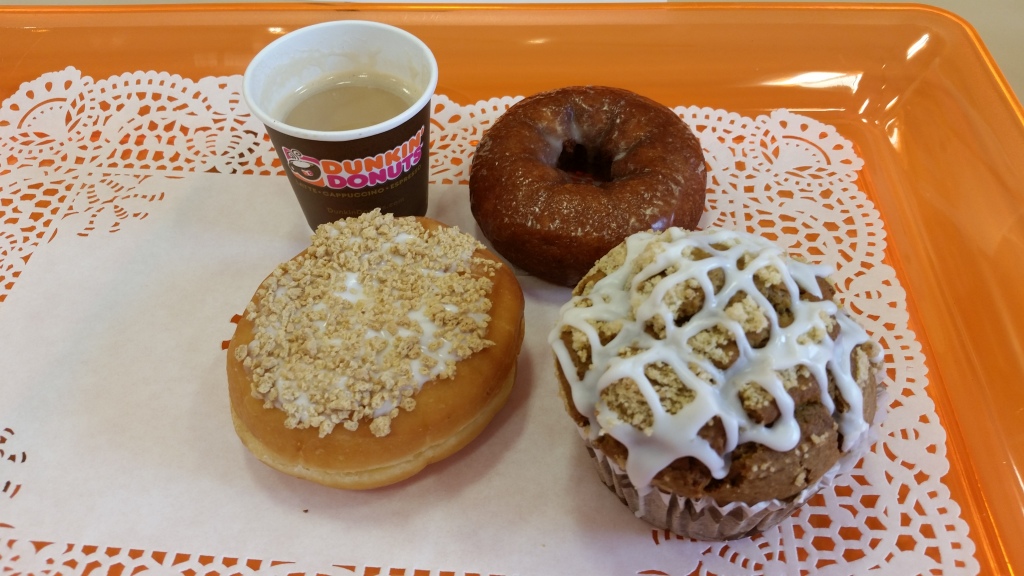 Next up was the new Fall Baked Goods. We tried the Pumpkin Glazed, the Pumpkin Pie and the Pumpkin Muffin. While all were tasty my favorite was the Pumpkin Glazed. Simple yet delicious!
Also new to the Dunkin Donuts menu is the Chicken Snack Wrap. A perfect light lunch. It's a wrap with chicken, bacon and cheese. Delicious!!
We also received a sample the new Spinach and artichoke Bagel. I was already full but could have eaten an entire bagel it was that good! The Spinach and Artichoke Bagel can be used to make a sandwich as well.
We all left stuffed and hyped up on caffeine. It was a fun treat and recommend checking at the new Fall line at Dunkin Donuts.
Don't forget to get your FREE medium cup of Dark Roast today and from September 30 to October 5 you can the medium Dark Roast for only $.99.
Ok I must get going to head over to get my FREE coffee and a Pumpkin Glazed Donut.    
What new treat will you try?