I was checking out SmartStyleGuide.com and came across a great article about your skin. There are many great articles, check them out!
We just moved 5 hours north and I never would have thought it would affect my skin. But the weather is a bit different here. I'm closer to the beach and it's colder then I'm use to!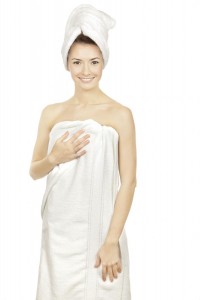 So what do you need to do? Check out the details for Spring Spruce up for Skin.
Basically, you want to run a loofah over your body before you get in the shower. Then during the shower, apply an exfoliating cleanser to your body. After the shower always use a lotion to your skin.
I just went to the derm and she mentioned how dry my skin is… I guess I need to get started.
I may get compensated for this post!