I received the product below and information to review. Opinions are my own.
I've never been affected by seasonal allergies. At least none that I know of. But this year? Wow! It's been a bad year for a lot of people. And guess who got it too? Me.
It started with my ears clicking. It did not hurt but it was very annoying. It almost felt like there was water in there. I tried ear drops and some Claritan. Then next came some bad sinus pain and a possible sinus infection. After a course of antibiotics there was still sinus pressure and the ear clicking was still there. My eyes! They are dry and irritating and itchy. Where did all of this come from? I went to visit and Ear, Nose and Throat doctor and he told me it was allergies. I said, I never had allergies before. But he said they could come on at any time.
Of course it's all over the news about how bad allergy season is this year. So what can you do about it? Here is some information to help you get some relief.
Most people actually don't realize air indoors can be up to 5 times more polluted with harmful allergens than the air outdoors!

Keep dust under control: Clean tables, shelves, lamp shades and electronics with a damp cloth to ensure dust doesn't float into the air. Avoid throw rugs when possible; uncluttered and bare floors are best.

Love your vacuum: Vacuum carpets, wood floors and tile at least two times per week.

Clean the air you breathe: Use an air purifier with a True HEPA filter in common areas of the home and in the bedroom.

Prevent pet dander: While most doctors suggest that people allergic to animal dander avoid household pets with feathers or fur, if you're an animal lover, keep the animal out of the bedroom.

Keep pollen outside: You can reduce the number of outdoor allergens such as pollen and mold from entering the home by keeping windows and doors closed and setting the air conditioner on re-circulate.
As noted above, an easy way for people to combat allergy symptoms is by using an air purifier with a true HEPA filter, such as one from the Fellowes AeraMax line. Their sleek design and ultra-quiet operation make them the perfect home companion as they silently remove 99.97% of the invisible indoor pollutants (pet dander, mold, allergens, etc.)
Fellows sent me the AeraMax Air Purifier to review. With all the pollen going around and getting a third cat, I thought why not? I could use some help, my allergies are killing me!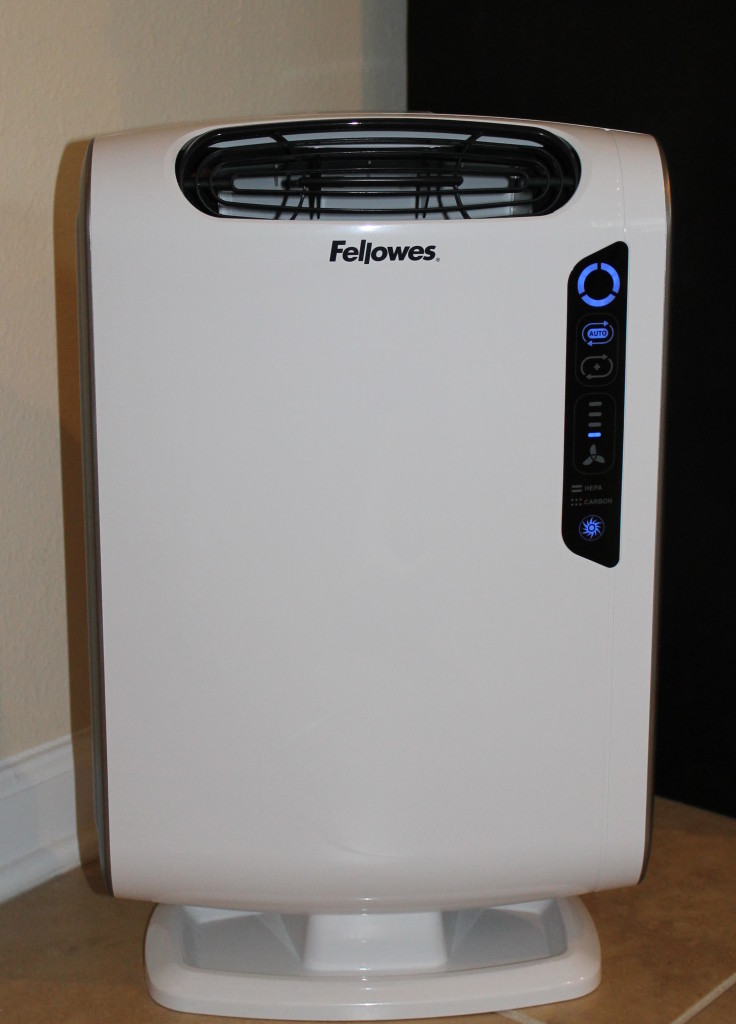 I love this new Air Purifier! It works up to  200 square feet. I placed in between my kitchen and living room.  AeraSmart™ Sensor monitors the air quality and automatically adjusts the fan speed to keep your air purified. All of the sudden the purifier will kick up a notch. Although it's still very quite. The True HEPA filter with AeraSafe™ antimicrobial treatment safely removes 99.97% of airborne particles as small as 0.3 microns, including pollen, ragweed and other allergens, viruses, germs, dust mites, mold spores and cigarette smoke.

All these lights let you know whats going on. The big circle at the top monitors the air quality and adjusts the fan speed. Different colored lights let you know the purity of your air. And yes Mine has been red sometimes, yuck!
The two lines together let you know when your HEPA Filter needs to be changed. And the six dots let you know when the Carbon Filter needs to be replaced.
Look how sleek and slender this is. My AeraMax is visible to anyone who walks through my house so having something discreet and pretty is a must.
                                                    Do you suffer from allergies? What helps you?