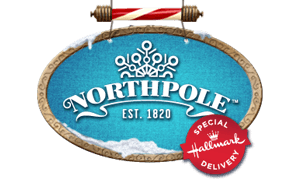 We live in Florida, which means no snow for us. That's great for me since I don't want any snow! 🙂 But the kids would love to see snow and be able to play and build a snowman.
Hallmark has some great toys that are "snow" like and are really fun without all the cold weather. Visit the NorthPole1820.com to see all the fun toys! Check out more fun at the Northpole from Hallmark for games and interaction. You can write a letter to Santa or even talk to him!
I was sent an Avalauncher and a Magic Snowball to try out with the kids. They couldn't wait to get into the toys and start playing.
The Avalauncher is a Walmart exclusive. With this snowball launcher, kids can practice their snowball skills even when the weather isn't frosty. Made by Northpole elves, this snowball launcher is the perfect way to practice your snowballin' skills. Set up snowflake targets and launch the included snowballs at them to rack up points.
The Magic Snowball was really fun. I think we need a few more to really have some fun. This ball is meant to used indoors as it is magically-lit and changes colors. As the ball hits a surface it lights up. Very fun.
Snowball in action.
One Mommy Has to Work reader will win both toys! See details below.