Autumn is just around the corner and Dunkin' Donuts is sweetening the season with exciting, new additions to their fall lineup!
This lucky lady was invited to visit our local Dunkin' Donuts to sample the new fall menu items. Who would pass up this opportunity I ask you?  Not me!  I love pumpkin.  Period.  No matter what form it comes in, I'm all over anything with pumpkin in the title.  So with an empty stomach and a sense of adventure I embarked on my Dunkin' Donuts Tasting Experience.

The first on the list to try was the new Tailgater Breakfast Sandwich.  This hearty breakfast sandwich serves up the spirit of game day grilling. Featuring a mouthwatering combination of egg, reduced fat cheddar cheese and juicy split smoked sausage topped with fire-roasted peppers and grilled onion mix and Ancho Chipotle sauce on an oven-toasted French Roll. This breakfast sandwich is so hearty and delicious I couldn't help but eat every bite of the sample we were offered.  A real winner!!
The next item offered was pumpkin coffee and lattes served hot and iced. These are a delicious staple I look forward to each fall at Dunkin's.  Pumpkin K-Cup pods and pumpkin packaged coffee are also available again this year.
The new Reese's Peanut Butter Square was next on the tasting menu. This donut is filled with rich and creamy Reese's peanut butter buttercream, topped with chocolate icing and finished with an orange icing drizzle.  Scrumptious and sweet, this was a delight to devour.
Also brand new this year is the Pumpkin Cheesecake Square.  This was my favorite new offering from Dunkin's.  This is pumpkin perfection!   You need to try this if you love pumpkin as much as I do. Seriously!  You can thank me later.
Three returning favorites were next on the tasting agenda. Pumpkin muffins, pumpkin donuts and donut hole treats.  Perfectly paired with a warm cup of coffee, these sweet treats were delicious.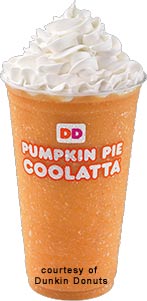 For guests in the Jacksonville area, Dunkin' Donuts is also offering the Pumpkin Pie Coolatta.  Featuring real pumpkin puree and spice flavors, with crumbled graham cracker pieces mixed in. Those graham cracker crumbles bring an unbelievable element to the drink.  While they are small, their pie crust texture and flavor put the pie in this pumpkin drink. Whipped crème topping is the perfect addition to this unique offering.
Dunkin' Donuts announced the return of its delicious Homestyle Apple Pie for the month of September only.  A handheld pie made with real apples and a braided crust, topped with cinnamon sugar.  One can never go wrong with the classic flavor of apples in autumn.  If pumpkin isn't your thing, this warm apple treat is guaranteed to make your taste buds smile and dance a little jig.
Coming in October……..Pumpkin Macchiato!  Served hot or cold.  Yep, I'll be seeing you there!
What new treat will you try?
September 29th is National Coffee Day!
Celebrate the season with a
 FREE medium cup of Dunkin' Donuts Dark Roast Coffee!