I love finding new games that the whole family can play. This can be difficult as I have a four year old and a twelve year old. Then there is the times when my parents come to visit and they want to play a card game, that my 4 year can't play, but wants to!!
I was sent a very fun game, Rollick, recently that the whole family could play and bot did we have a last!
Rollick is kinda like charades.
When we first opened Rollick, it was just the kids and I. I could not play "by the rules" as we did not have enough players. So we each took some cards and acted out the subjects. (I had to whisper the words to my daughter) But the kids had fun and they wanted to play again the next day.
Then over the Thanksgiving holidays, I had my dad and stepmom visiting. They asked to I wanted to play cards. I suggested Rollick instead.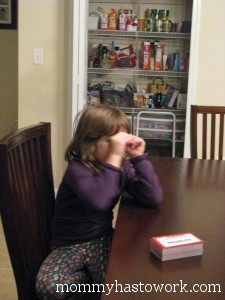 (binoculars)
So….we did not play with teams, except for my daughter. Either my hubby or I teamed with her on her turn. We did not use a timer, as directed.
But let me tell you…..
(plucking your eyebrows)
We had a blast! I never laughed so much and goodness, my father kept picking ones he had to lie on the floor!!
(doing the back stroke)
(doing the hokey pokey)
We really did have a great time and I would recommend it for anyone!
Rollick has won some great rewards:
Creative Child Magazine 2012 Party Game of the Year Dr. Toy – Top 100 Toys for Children
Dr. Toy –Top 10 Games
WTS Toy Review 5-Star Rating Toy Man Award of Excellence Toy Man eChoice Major Fun Award Mom's Choice Gold Award Mr. Dad Seal of Approval
Available at bookstores and specialty toy stores around the country and on online at multiple stores!
We received the above game to review and it was awesome! Opinions are my own!